Hur kan varumärken skapa ett digitalt samhälle som fungerar för alla?
Den digitala ekonomin har medfört enorma fördelar för samhället. Samtidigt har den också fått en del oavsiktliga, negativa konsekvenser. Nu står varumärken inför utmaningen att göra något åt dem och se till att den digitala ekonomin fungerar för alla i samhället.
Digital Society Index 2018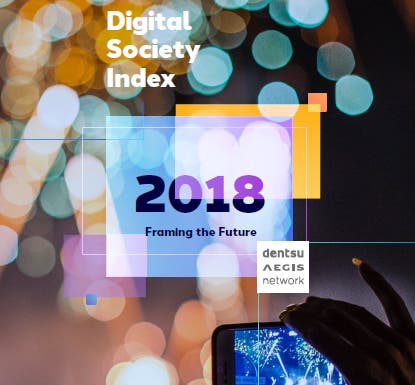 Published on:
Hur bra är olika länder på att bygga en digital ekonomi som fungerar för alla? Det kan du läsa mer om i Digital Society Index 2018, som genomförts i samarbete med Oxford Economics och ger en unik inblick i fenomenet inkluderande digital tillväxt.
Download report
Sign up to the latest news and updates from Dentsu Aegis Network
Thank you!
Your details were submitted successfully.
There was a problem!
It seems there was an error submitting your details. Please try again later.