Heb jij het in je?
Dentsu Aegis is een internationale, ambitieuze organisatie in een branche die elke dag anders is. Om onze ambities waar te kunnen maken zijn wij altijd op zoek naar talenten die zich kunnen identificeren met onze waarden en zo mee kunnen bouwen aan een nog sterker Dentsu Aegis Network. Naast hard werken, ontspannen we ook graag. We geloven dat je beter presteert als je 'work-life balance' in orde is. Daarom bieden wij een gezonde lunch met salade buffet, ontspanning tijdens een stoelmassage en sportieve collega's kunnen deelnemen aan de bootcamp- en kickbokslessen. Ook organiseren we regelmatig vrijdagmiddag borrels en leuke bedrijfsfeesten. En wil je tijdens het werk even een break om een potje Fifa, tafelvoetbal of tafeltennis te spelen? Dat kan!
Wij bieden verschillende trainingen en opleidingen aan zodat medewerkers zich verder kunnen ontwikkelen binnen hun vakgebied. Daarnaast organiseren collega's regelmatig kennissessies om zo kennisdeling te bevorderen.
Agile
We're nimble, quick and flexible. We're fresh thinkers. And we do things differently. So, we act freely, decide quickly, and keep things simple.
Pioneering
We're building an industry legacy by being innovative, risk-taking self-starters. That means we're constantly curious and we're passionate thinkers.
Ambitious
We reward relentlessness and hunger to create a trailblazing, inquisitive culture. We're focused. And we love to ask, "what else can we do?"
Responsible
We own our thoughts and actions, as individuals and as a team. We're good citizens. And, most importantly, we're honest.
Collaborative
We work as a global team to deliver a consistent client experience while partnering locally to deliver the best possible solutions. 
Diversity
Diverse personalities, viewpoints and thinking drive brilliance. So, we create an environment where everyone feels comfortable being themselves. 
Voor de planeet
Ydek, ons hoofdkantoor in Amsterdam is zeer duurzaam. De verwarming en koeling zijn met behulp van betonkernactivering en warmte- en koudeopslag in het grondwater volledig onafhankelijk. 
Voor de gemeenschap
We helpen onze mensen hun tijd en talent te delen met de samenleving. Onze collega's krijgen 1 dag per jaar vrij om zich in te zetten voor de maatschappij.
Voor onze mensen
Onze collega's dragen actief bij aan de integratie van iedereen in de digitale economie. Zo geven we sollicitatietraining aan minderheden.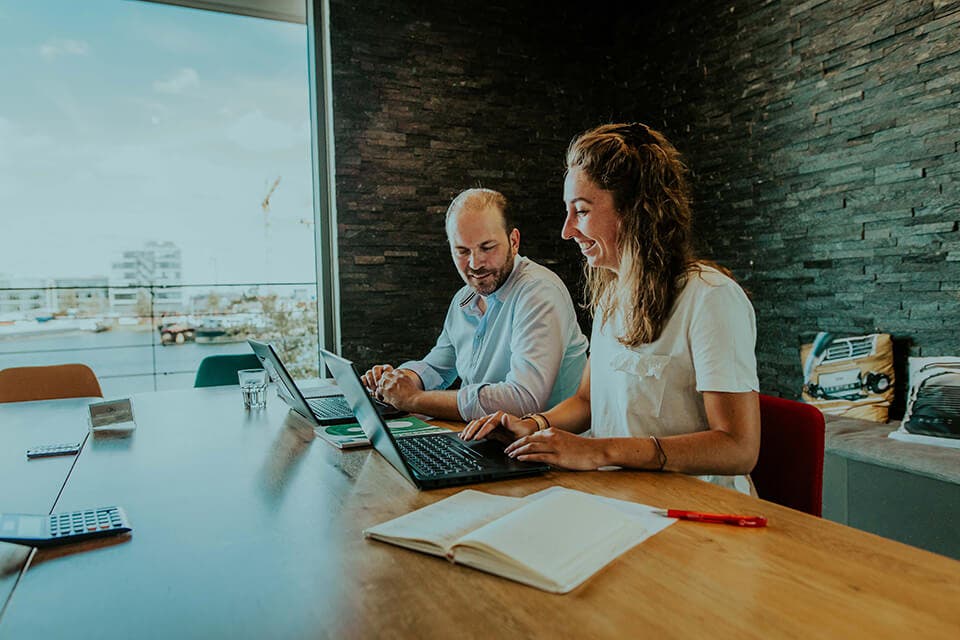 Tips
Heb je een sollicitatiegesprek bij ons?
Bekijk onze handige tips.
Bekijk onze tips