Data-Driven Commerce 2019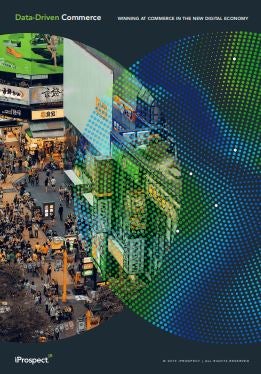 The digital economy is profoundly changing the face of commerce.
By the end of 2020, retail e-commerce sales are expected to reach $4.21 trillion (USD) worldwide. Although transactions happening offline will still represent more than 80% of the estimated retail sales, growth is shifting to e-commerce with a sales progression close to five times stronger than the rest of commerce and sustained by the growing dominance of mobile (67% of e-commerce sales).

We surveyed 100 global marketers to learn more about how they currently perform in their commerce efforts and where they should be looking to fuel their growth, ranking their answers across each dimension of iProspect's Commerce Success Framework (CSF). Feedback confirmed that most brands are actively building upon their performance marketing heritage, adapting their skills and technology to secure the availability and findability of their proposition in the commerce sphere.

Notwithstanding these efforts, they are having a harder time converting and retaining their audiences, and only a few have taken the plunge into commerce-specific technology. Featuring exclusive interviews and insights from leading brands and platforms such as Danone, Google, Jumpshot, Pinterest, KLM, Beiersdorf, Jumper.ai, Diageo, Revuze and Saucony, the Data-Driven Commerce report builds upon the results of this State of Commerce Maturity survey to explore how brands can win at commerce by using data to grow their capabilities in each dimension of the CSF model:
· Availability: Meeting consumers where they really are
· Findability: Ensuring relevant visibility when it matters
· Buyability: Differentiating products from the competition
· Repeatability: Building a relationship with the consumer beyond the first sale
Thank you!
Your details were submitted successfully.
There was a problem!
It seems there was an error submitting your details. Please try again later.
Thank you!
Thank you for downloading our report. You can access the PDF at this link.